or informal evening get-togethers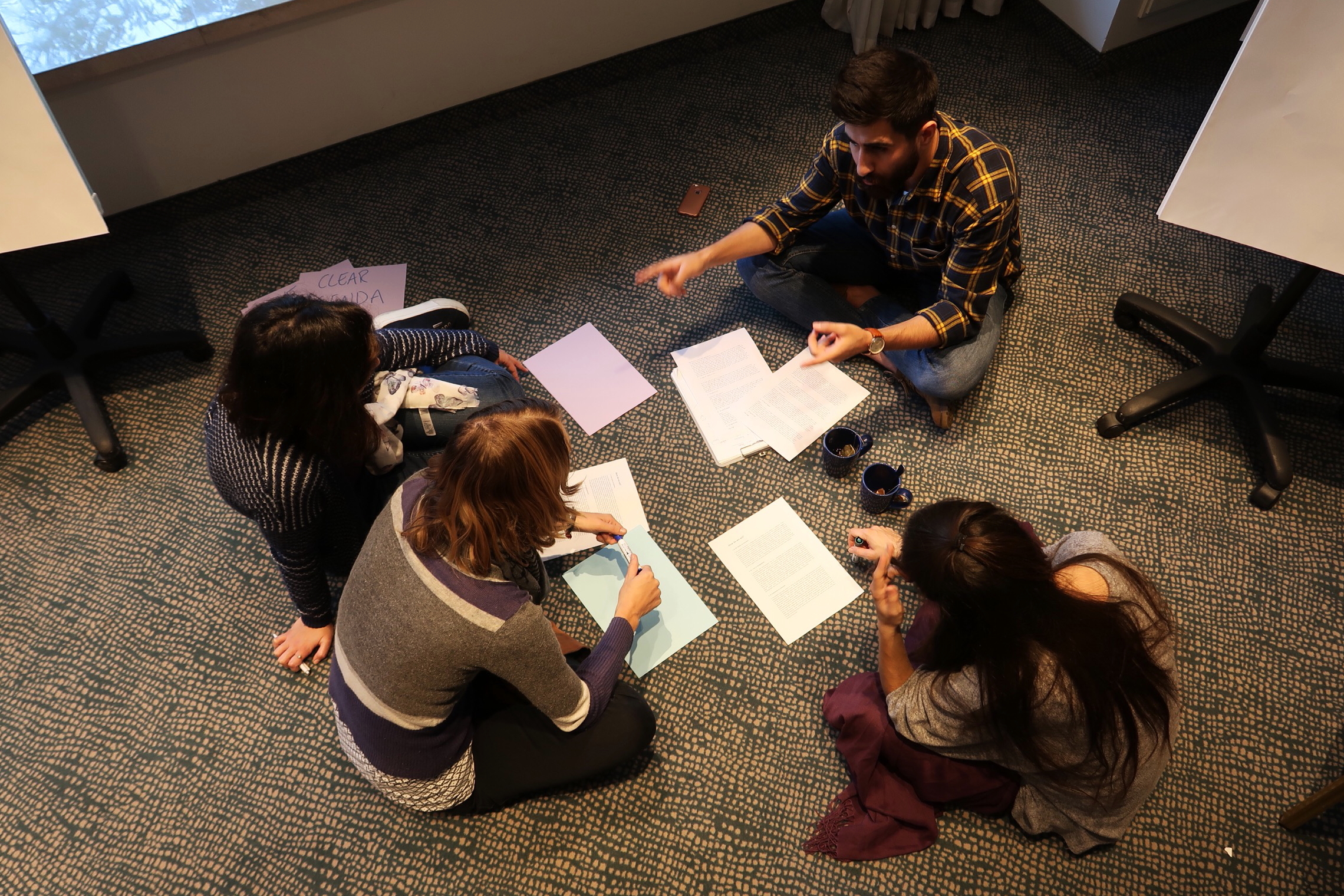 Creating a space for exchange.
In 2019 and 2020, we are hosting a series of dardachet for anyone who took part in our trainings. The format of dardache, or informal chit-chat session, provides a space for people to meet and discuss diverse topics, in one way or another related to exile and migration. This way, we continue to explore alternative – and better! – ways of talking and reporting about these issues, and create new knowledge together. If you took part in any of our former trainings or workshops, you are more than welcome to join the dardachet evenings.
Each dardache is held at Mansion, a formerly abandoned house that is now a shared open space in Zoukak el-Blat.
We start at 7pm each time. There are always drinks and light snacks, but please feel free to bring something along if you wish. We finish around 9pm, but there is an open garden at Mansion where the discussion can continue.
As always, we use both Arabic and English. There is live interpretation and you are more than welcome to use whichever language you prefer.
Anyone who did our workshops, including the longer international exchanges and the different trainings in Lebanon, is welcome to the dardache. It is always for free!
Past dardachet
June 11 2019: Migration narratives
During our first dardache, we looked at alternative ways of crafting narratives around migration and human movement. We read stories about people and places shaped by migratory patterns, including the Portuguese-speaking villages of Lebanon's Bekaa Valley, bygone routes transporting people and goods across deserts and plains, and an Armenian chef cooking the food that binds together Lebanon and Armenia. This way, and through discussing how stories are shaped and told, we sought to find what signifies a good – fair, just and inspirational – story.
July 31 2019: In times of crisis
For the second dardache, we gathered to talk about the current developments in Lebanon, including the ongoing movement towards more anti-migration and anti-refugees sentiments. We discussed the recent happenings, including how politicians have phrased their opposition to migrants and refugess, and what consequences this has had and will continue to have in Lebanon. Participants also shared input and stories from their different fields of work, and looked at ways to counter hate speech and anti-migration rhethoric, not least as journalists and representatives of NGOs and the media.
November 15 2019: Media and the brain
For the third dardache, we invited neuroscinetist Samah Karaki to talk about how the brain processes information, including things like news articles and reports, and how journalists may take this into consideration when reporting on issues. We discussed how images and concepts are formed in our brains, and how they inform our ways of action. The dardache took part in the middle of a follow-up workshop with participants from the 2019 series of international workshops, so guests included many alumni from Germany and France as well.
December 2019: Neighbours: A series of seven stories
During our fourth session, we looked closer at the seven stories produced as part of our joint Switch Perspective-Mashallah News storytelling series Neighbours with articles on the topic of shared living spaces and nearby relations. We talked and reflected on the writing and production process, and listened to people's stories about their own neighbours.
April 21, 2020: Nationalism and mobilisation
For our fifth session, we considered the issue of nationalism and the idea of the nation as a concept to mobilise around. We discussed the topic the context of the Lebanese revolution: how the idea of national belonging both may bring people together and cause division, and what role it plays during popular mobilisations such as the ongoing uprising/revolution.
January 26, 2021: Research reflections 
This session was held online, due to restrictions imposed during the pandemic. We reflected around the ongoing research for the publication New Ways of Narrating Migration: people who were interviewed or contributed with content for the publication discussed how to present it and gave input on things to tweak, add or omit.